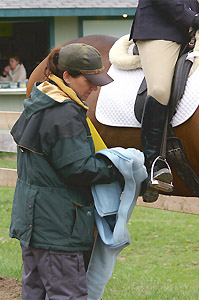 About Elaine
For over 40 years Elaine has made her life study and passion the art of dressage riding and teaching. Elaine began riding at the age of seven, competing at the age of ten, teaching and training for clients by the age of fifteen and making a living with horses at age eighteen.
Elaine has worked with all disciplines of horses and riders with a variety of temperaments and skills. Throughout England, France, Canada and the US, she has found that all horses and riders can benefit from dressage training.
Elaine possesses the riding and teaching skills capable of producing a free moving and relaxed horse at all levels. For each horse and rider, exercises and training regimens are selected from her extensive international experience to increase performance for horses and enhance the joy of riding.
Degrees and Certifications:
- Equine Science Diploma, Humber College, Toronto
- British Horse Society; Horsemaster's and A Level Instructor,
Harrogate, Yorkshire, England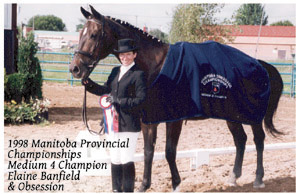 Competition Results
1990 Granted "Elite Rider" status
1993 Certified Canadian Equestrian Federation Coach Level II D
1993, 1995 Canadian National Awards Program: Bronze Advanced Dressage Award
1995 Dressage Coach of the Year
1996, 1999, 2000 Capt. DeKenyeres Advanced Level Dressage Trophy
1997 Certified Canadian Equestrian Federation Dressage Judge; currently M Level
1998 Canadian National Dressage Championships; 4th Prix St. George, Intermediate I Trophy, single highest dressage percentage score for the year, Provincial Champion Prix St. George and Intermediate I
Declared Rider for the Pan Am Games
2001 Dressage Coach of the Year
2003 Evaluated and recommended Level III Dressage Coach
Extensive training with the Canadian Olympic Team Riders/Trainers
Canada's only certified coach of Psychosomatic Riding
EC Competion Coach Specialist Master Evaluator and Mentor
Western Dressage Judge
Working Equitation Judge
CWBHA Warmblood Breed Inspector
As an experienced competition rider, Elaine has ridden the higher levels and has the know-how to get you or your horse there too!