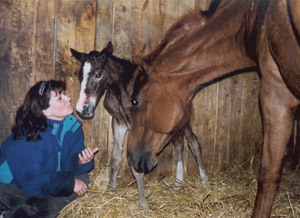 Breeding
Elaine has many years of experience in breeding and working with stallions.
One of the foals bred by Elaine achieved a score of 83% on an FEI 4-Yr Old Test in 2007.
---
Manitoba Connections at the WEG
Published by Manitoba Horse Council
Wednesday, 06 October 2010 15:09
Did you know a horse on the Canadian Dressage Team at the World Equestrian Games (WEG) is Manitoba-bred?
Manitoba becoming a top producer of Warmblood horses in Canada
Warmblood inspectors are flown in from Europe yearly to tour Canada to inspect and rate the quality of the young horses being produced in this country. The Warmblood inspection program is very rigid with breeding stock and foals being viewed for desirable conformation and movement. Those who may not be up to standard are not allowed into the breeding registry. Feedback has been received from these knowledgeable overseers of the Canadian breeding program; Manitoba has amazing quality and is producing some of the best young horses in the country.
As confirmation of such credit, a Manitoba-bred Canadian Warmblood gelding Pikardi (Pointmaker by Pik Bube x Wenke out of Delaney by Diamont) is competing for the Canadian Team in Dressage at the World Equestrian Games in Kentucky from Sept 28 to Oct 9. His rider is former Olympian Bonnie Bonnello of Edmonton, Alberta.
The connection: Jill Biggs from Thunder Bay, Ontario was the owner of the breeding operation here in Manitoba. Elaine Banfield partnered in the business as breeding manager, in charge of purchasing mares and stallions and researching and designating the breeding choices of mares to stallions. Delaney was one of the best producing mares and Pikardi was her first foal born here in Manitoba at Elaine Banfield's farm.
Delaney's second foal by Eastern Ruler was sold to Dale Hawerchuk as a weanling. Another of Delaney's foals is showing successfully in Dressage under the show name Illisus – she is now owned by Melissa Johnston of Winnipeg (Meadowview Ranch).
Pikardi was always a naughty foal and to this day, Bonnie says that most of the grooms find him annoying!!! At the age of 3 days Pikardi began treatment for joint ill, which is a septicemia that enters the body orally, anally or through the umbilical cord. The disease settles in the joints and can be life threatening. With the wonderful care provided by the veterinarian Glenn Sinclair, who flushed the poison out of his ankle regularly, Pikardi pulled through with no ill effects.
Pikardi was purchased as yearling by the Pinterets family who originated from Germany and now lives in Headingley. The Pinterets left Pikardi a stallion and he bred one mare. As a result Pikardi has a grandson in Manitoba: Pik Sun, a pony warmblood cross that competes successfully in Dressage with Megan Peterson, coached by Elaine Banfield.
Pikardi came back to Elaine's farm as a three year old. The very capable, Clint Kinkead now of Eriksdale did an excellent job breaking the challenging young stallion , and Elaine Banfield continued with some Dressage schooling . Pikardi then went through a few homes before he found his way to Bonnie Bonnello who found his challenging temperament rather entertaining. The rest is making history for Manitoba breeders with their knowledge, dedication, and professionalism.
Before leaving the province or country to buy, consider a Manitoba bred horse and join the podium of success! Look for ads in the Horse Country Magazine to find our local breeders - we have amazing stock!
- courtesy of Elaine Banfield
At the WEG, Pikardi and Bonnie Bonnello helped Canada's Dressage Team to its best ever 7th place finish at these Games with a total team score of 206.09. Pikardi and Bonnie placed tied for 47th of 66 competitors in the Team test respectively, with a score of 65.447 %.